Automatic color and texture matching that addresses problems of multicam and stereo shoots.
RE:Match in Action
See what RE:Match can do!
We would like to thank the following people for supplying footage: Jaime Fernández Miranda, Mammoth HD, Ami Sun and Karen Marcelo, Survival Research Laboratories, Garrett J Smith and original music by Bob Bralove, bobbralove.com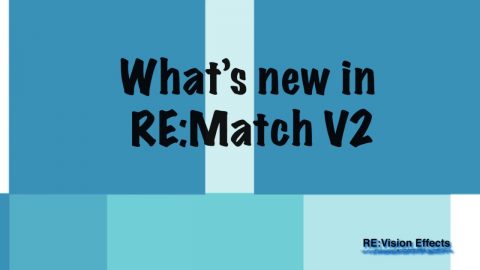 RE:Match is our solution to help you with camera matching problems. In this overview, you will see new features added in RE:Match V2 as well as some differences between RE:Match V1 and V2.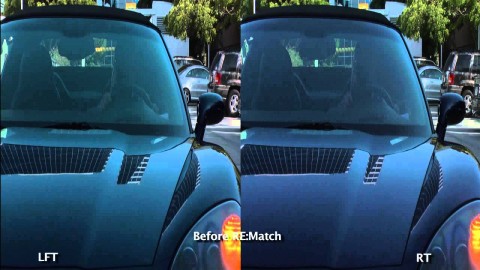 In this example, you will see that RE:Match Stereo matches one view to the other, despite the fact that the car reflects a slightly different color at a different angle.
View Complete Gallery
Nick Brooks, Academy Award and Emmy Award winner for visual effects, says RE:Match provides "amazing color matching for stereo pairs... really!!! The specular and optical aberrations matching is high quality and very effective."
Jonathan Banta, stereo pipeline designer, says "The smart guys at RE:Vision Effects have created a very cool toolset that I have been lobbying for for a long time. Brilliant!"
RE:Match Features
Match colors automatically
Color correct one shot to match another when using multiple takes or cameras.
Easy to control
RE:Match can match using the whole image or part of an image, and can use any point in time.
Stereo match
RE:Match improves stereo footage by knowing that the two views are captured at the same time with a small distance between the views.
Color matching
Set a color correction using several automatic methods. Color correct using a particular point in time of the sequence to match.
Mask Shapes
Perform automatic whole-image color correction based on a smaller window of pixels for each of the image sequence
Crop window
Perform automatic whole-image color correction based on a smaller window of pixels for each of the image sequence
Footage requirements
RE:Match assumes that both image sequences are taken roughly at the same location but perhaps were not shot at the same time or from the same point-of-view.
Color Correction Dissolve
Dissolve color corrective matching between user-selected reference frames along the timeline. Great for shot-to-shot match. Your reference can even be a set of stills.
Handles more than one cut
Control the color correction for different cuts within your sequence by setting up one to four images and color match by choosing among them. This reduces the need to cut up your footage before processing.
Reuse a color correction
Ability to store the current color correction and use it on other sequences via cut-and-paste of the plug-in to another clip
HDR Imagery
Works well with over bright values and very wide dynamic ranges
Auto image registration
Matching for stereo pairs takes advantage of internal per-pixel registration using optical flow methods.
Frame edge differences
Stereo pair matching takes into account that the two images may not have corresponding details at some of the edges of the frame.
No stereo alignment required
You can use at any point of your pipeline. Because RE:Match uses internal pixel registration, stereo matching does not require image alignment prior to use. Visualization modes are provided to guide what RE:Match is doing internally.
Pro support for texture transfer
Use to match film scan to video (e.g. DVD with baked color correction), negative versus graded version/positive.
Learn how to use RE:Match's features
Instructional videos, and example videos, that help you learn how to get the most of each plug-in's robust features.
Download
Try RE:Match for Free
RE:Match V2 – OFX Hosts
RE:Match V2 – OFX Hosts
TRIAL DOWNLOAD & LICENSE COMPATIBILITY
When you download a RE:Match or purchase a RE:Match license for Resolve it is compatible with the following:
Autograph
Autograph (all versions)
Baselight
5.2.11675 (and up)
Catalyst Edit
2017.2 (and up)
Diamant and Dustbuster+
13.0 (and up)
Flame
2019.2 (and up)
Fusion Studio
5.2 (and up)
HitFilm
4 (and up)
Natron
1 (and up)
Nuke
5.1 or Indie 12.2 (and up)
Resolve
15.1.1 (and up)
Silhouette
6.1.3 (and up)
Vegas Pro
64-bit only, v10.0e (and up)
BUNDLE & SAVE
Our Effections bundles package the power of multiple plug-ins together for a great price. A great option if you think you'll buy more than one of our products.
Purchase RE:Match
License for Resolve
Regular license works with After Effects, Autograph, Catalyst Edit, Diamant and Dustbuster+, HitFilm, Premiere Pro, Resolve, and Vegas Pro.
Pro license works with After Effects, Autograph, Baselight, Diamant and Dustbuster+, Flame, Fusion Studio, HitFilm, Natron, Nuke, Premiere Pro, Resolve, Scratch, and Silhouette. Pro license also works with regular product of any supported host.

Additional License Options
We offer several types of licensing options for both our interactive and render-only plug-ins: floating license, non-floating license, and volume license (read the licensing overview for more information). If you are interested in volume licensing or have other questions about these license options, please contact us. All floating licenses require installing our floating license server.
Features, pricing and availability are subject to change without notice.
Interactive license options
Floating Licenses
RE:Match Pro v2


Floating License
PURCHASE FLOATING LICENSE

RE:Match Pro v2


Floating License
Upgrade any regular version to v2 floating

RE:Match Pro v2


Floating License
Upgrade pre-v2 non-floating Pro to v2 floating

RE:Match Pro v2


Floating License
Upgrade v2 non-floating Pro to v2 floating

RE:Match Pro v2


Floating License
Upgrade pre-v2 floating to v2 floating
Show Additional Licenses